Born (and shortly thereafter adopted) in southern New Jersey in 1965, I moved to California with my family in the mid-1970s, living in Vista, Huntington Beach, and Hillcrest before returning east in 1989 with my partner the poet Jennifer Moxley. I received my BA from the University of California at San Diego in 1988 and my PhD from Brown in 2000.
I joined the English Department faculty at the University of Maine as an assistant professor in 1999 and received tenure in 2005.
I have coordinated the New Writing Series since 1999.
I served as coordinator for the undergraduate program from fall of 2004 to spring of 2006 and as the Graduate Studies Coordinator from fall 2007 to spring of 2011.
I have also served on the Executive Board of the Graduate School and as a CLAS representative to the University Research Council. I was on the Contemporary Arts Committee of the Maine Arts Commission from 2007 to 2012.
From 1999 forward I've been affiliated with the National Poetry Foundation, through which I have done a variety of editorial and curatorial projects. In 2010 I assumed the role of Acting Director for the NPF.
My research focuses on contemporary poetry and poetics, critical theory, modernism, and the avant-garde. At present I am at work on a book-length project tentatively titled "The Poetics of Phonotextuality: Timbre, Text, and Technology in Recorded Poetry."
I can be contacted by e-mail here and by phone at the English Department, 207-581-3818.
Writing, Editing, Programming
Edited volume: After Patriarchal Poetry: Feminism and the Contemporary Avant-Garde, differences 12.2 (2001)
Articles and reviews in: The Nation, The Baffler, Publishers Weekly, The Poker, Aerial, Poetics Journal, Qui Parle, and other venues
Website: Third Factory / Notes to Poetry > link
Coordinator of the New Writing Series at UMaine > link
Contributing editor, The Poker > link
Current Teaching: AY 2012-2013
Language and Literature (Eng 470, Fall 2012) > link
The Act of Interpretation (Eng 271, Fall 2012) > link
Past Teaching
Proust and the Hermeneutics of Desire (Eng 490, Spring 2012) > link
The Act of Interpretation (Eng 271, Spring 2012)
The Essay as Form (Eng 402, Fall 2011) > pdf
Meditations in an Emergency: Frank O'Hara after Modernism and Before Postmodernism (Eng 649, Fall 2011) > pdf
Reading Ulysses (Eng 529, Spring 2011) > link
The Act of Interpretation (Eng 271, Fall 2010) > link
The Master-Slave Dialectic (Eng 470, Spring 2010) > link
The Act of Interpretation (Eng 271, Spring 2010) > link
The Act of Interpretation (Eng 271, Fall 2009) > link
Introduction to Poetics (Eng 580, Spring 2009) > link
The Act of Interpretation (Eng 271, Spring 2009) > link
Poetry in the Age of the MP3 (Eng 429, Fall 2008) > link
The Act of Interpretation (Eng 271, Fall 2008) > link
Feminist and Avant-Garde Poetries of the 1970s (Eng 481, Spring 2008) > link
A Science of the Singular? Roland Barthes and the Desire for Theory (Eng 570, Fall 2007) > link
The Act of Interpretation (Eng 271, Fall 2007) > link
Listen! American Poetry in the Age of the MP3 (Eng 529, Summer 2007) > link
Hegel's Phenomenology of Spirit & Its Readers (Eng 470, Spring 2006) > link
The Act of Interpretation (Eng 271, Spring 2006) > link
Foundations of Literary Analysis (English 170, Fall 2005) > link
The Act of Interpretation (English 271, Fall 2005) > link
Foundations of Literary Analysis (English 170, Spring 2005) > link
American Poetry (English 446, Spring 2005) > link
After Patriarchal Poetry? Feminism, Gender, and the Avant-Garde in 20th-Century American Poetry (English 649, Spring 2005) > link
Proust and the Hermeneutics of Desire (Honors 310, Fall 2004) > link
Major American Writers: Stein, Williams, and Zukofksy (English 440, Fall 2004) > link
Introduction to Poetics (English 580, Spring 2004) > link
Foundations of Literary Analysis (English 170, Spring 2004) > link
The Vital Word (English 429) > Fall 2003 > Spring 2003 > Fall 2001
Topics in Literary Theory: The Moment of Tel Quel (English 470, Spring 2002) > link
Seminar on Black Mountain College (Spring 2001) > link
Other Resources
Bibliography of Avant-Garde Feminist Poetics (2001) > link
Hegel Reading Group Bibliography (1998)> link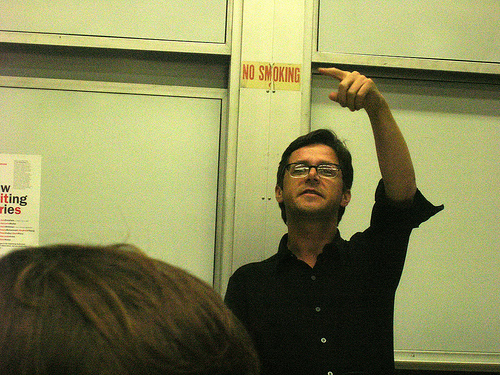 Fall 2005 • Photograph by Benjamin Friedlander